Operation Iraqi Freedom and Operation New Dawn – Book of Honor
OIF 2004-2010 and OND 2010 -2011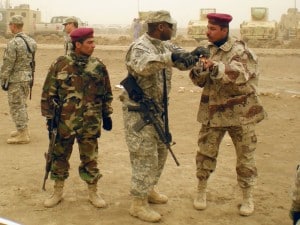 The following Troopers paid the ultimate sacrifice serving their country in Operation Iraqi Freedom and Operation New Dawn so that we and others may enjoy the benefits of liberty that they so much loved, protected and defended. This list also contains the names of two Troopers killed at Fort Hood during the shooting of 5 November 2010 that were assigned to the First Team. These Troopers died during three different deployments of the 1st Cavalry Division for Operation Iraqi Freedom (OIF II, OIF 06-08, OIF 08-10) and during Operation New Dawn which began in the fall of 2010 and ended in December 2011.
Each of these Troopers was assigned, attached or under the operational control of the 1st Cavalry Division at the time of their death. They are listed by their date of death with the most recent at the top of the list.
They will never be forgotten!
"We can never re-pay them for such noble sacrifice. We can only look their loved ones in the eye and guarantee you that their Soldiers' deeds and sacrifice will never be forgotten, nor are they in vain."
– MG Joseph F. Fil, Jr.
"There is a greatness in the formation you see before you.
Some of that greatness, while undeniably tangible and present, is completely unseen. Standing in those ranks in spirit are all of our fallen heroes. They are those patriots who paid the ultimate price for their love of country and their comrades-in-arms. They stand tall in the ranks of our history and are unseen, but forever felt and remembered, in the ranks before you."
– COL David W. Southerland, 3rd Brigade Change of Command, 26 March 2008
Operation Inherent Resolve 2015-Present
​
Rank | Last Name | First Name | Age | Unit | Hometown | Date of Death
SPC MENDEZ-COVARRUBIAS Juan 1-227, 1st ACB Hanford, CA 11-Mar-20
PFC ODIORNE, Brian P., B Btry., 2-82 FA, 3rd BCT Ware Massachusetts 20-Feb-17
Operation New Dawn 2010-2011
Rank | Last Name | First Name | Age | Unit | Hometown | Date of Death
​CPT CHARLES Shawn P. 40 HHC, 2-8th Cavalry, 1st BCT Hickory, NC 23-Oct-11
PFC SHAPIRO Steven F. 29 D Co., 3-8th Cavalry, 3rd BCT Hidden Valley Lake, CA 21-Oct-11
SPC MILLS Adrian G. 23 272nd MP Co., 519th MP BN Newman, GA 29-Sep-11
SSG ALTAMIRANO Estevan 30 D Co., 1-5th Cavalry, 2nd BCT Edcouch, TX 18-Sep-11
SPC ELLIOTT Daniel L. 21 290th MP Bde, 200th MP Command Youngsville, NC 15-Jul-11
SGT TALAMANTEZ Steven L. 34 C Co., 3-8th Cavalry, 3rd BCT Laredo, TX 10-Jul-11
SPC GALLAGHER Matthew R. 22 A Trp., 6-9th Cavalry, 3rd BCT North Falmouth, MA 26-Jun-11
PFC JOHNSON Dylan J. 20 C Trp., 4-9th Cavalry, 2nd BCT Tulsa, OK 26-Jun-11
SSG PROCTOR Russell J. 25 C Trp., 4-9th Cavalry, 2nd BCT Oroville, CA 26-Jun-11
SSG BELLARD Nicholas P. 26 C Trp., 6-9th Cavalry, 3rd BCT El Paso, TX 13-Jun-11
SGT SEWELL Glenn M. 23 C Trp., 6-9th Cavalry, 3rd BCT Live Oak, TX 13-Jun-11
SGT XAYSANA Vorasack T. 30 HHC, 2-12rth Cavalry, 4th BCT Westminster, CO 10-Apr-11
SPC NELSON Gary L. III 20 C Trp., 6-8th Cavalry, 4th BCT, 3ID Woodstock, GA 5-Apr-11
SGT SCATLIFFE Jorge A. 32 E Co., 27th BSB, 4th BCT St. Croix, VI 2-Apr-11
SGT LAMAR Martin J. 43 A Trp., 1-9th Cavalry, 4th BCT Sacramento, CA 15-Jan-11
SGT BARTLEY Michael P. 23 A Trp., 1-9th Cavalry, 4th BCT Barnhill, IL 15-Jan-11
Operation Iraqi Freedom 2004-2010
Rank | Last Name | First Name | Age | Unit | Hometown | Date of Death
​SPC CROFT David A., Jr. 22 B Trp., 1-7th Cavalry, 1st BCT Plant City, FL 5-Jan-10
PVT TELLO Jhanner A. 29 D Co., 2-227th Aviation, 1ACB Los Angeles, CA 10-Dec-09
PFC ROGERS Michael A. 23 210th BSB, 2nd BCT, 10MTN White Sulphur Springs, MT 27-Nov-09
SSG ZORN Ryan L. 35 BTT, 4251, 3rd BCT Upton, WY 16-Nov-09
SPC HUNT Jason D. 22 HHC, 2-8th Cavalry, 1st BCT (Rear Det) Frederick, OK 5-Nov-09
PV2 VELEZ Francheska 21 F Co. (FSC), 115th BSB, 1st BCT (Rear Det) Chicago, IL 5-Nov-09
PFC HOPPER Lukas C. 20 D Co., 1-505th Para Inf., 3rd BCT, 82ABN Merced, CA 30-Oct-09
SSG ESPINOZA Bradley 26 E Co., 1-12th Cavalry, 3rd BCT Mission, TX 19-Oct-09
PFC RIVERA Daniel J. 22 D Co., 3-8th Cavalry, 3rd BCT Rochester, NY 18-Oct-09
SPC ANDERSEN Paul E. 49 855th QM Co., 10th Sust Bde. (USAR) Dowagiac, MI 1-Oct-09
1LT HELTON Joseph D. 24 723rd Sqdn, 8th MP BDE (USAF) Monroe, GA 8-Sep-09
2LT FORTIN Joseph D. 22 C Trp., 1-7th Cavalry, 1st BCT St. Johnsbury, VT 23-Aug-09
SSG POLK Johnny R. 39 B Btry., 3-82nd FA, 2nd BCT Gulfport, MS 25-Jul-09
SPC BERRIOS-CAMPOS Herberth A. 21 HHC, 1-505th Infantry, 3rd BCT, 82ABN Bealeton, VA 24-Jul-09
CW2 JARVIS Rodney A. 34 HSC, 46th Engineer, 1st MEB Akron, OH 13-Jul-09
PVT BREGG Lucas M. 19 D Co., 2-5th Cavalry, 1st BCT Wright City, MO 8-Jul-09
SGT ADAMS Roger L., Jr. 36 A Co., 1-120th CAB, 30th HBCT Jacksonville, NC 29-Jun-09
SGT BALDEOSINGH Juan C. 30 A Co., 1-120th CAB, 30th HBCT Newport, NC 29-Jun-09
SPC BITTIKER Robert L. 39 A Co., 1-120th CAB, 30th HBCT Jacksonville, NC 29-Jun-09
SFC KRAMER Edward C. 39 A Co., 1-120th CAB, 30th HBCT Wilmington, NC 29-Jun-09
SGT DAVID Timothy A. 28 HHC, 2-5th Cavalry, 1st BCT Gladwin, MI 28-Jun-09
SSG LO Edmond L. 23 797th Ordnance Co., 79th Ord., TF Troy Salem, NH 13-Jun-09
SGT KURTH Christopher M. 23 G Co., (Fwd Spt), 15th BSB, 1CD Alamogordo, NM 4-Jun-09
SGT DUFFY Justin J. 31 HHC, 3rd BCT, 82nd ABN Cozad, NE 2-Jun-09
PVT LEE Thomas E., III 20 A Co., 3-8th Cavalry, 3rd BCT Dalton, GA 29-May-09
SPC EDMUNDSON Chad A. 20 B Co., 2-112th Infantry, 56th Stryker BCT Williamsburg, PA 27-May-09
1LT BARNARD Leevi K. 28 HHC, 252nd CAB, 30th HBCT Mount Airy, NC 21-May-09
SSG BROOKS Paul F. 34 HHC, 252nd CAB, 30th HBCT Joplin, MO 21-May-09
MAJ GEORGE Jason E. 38 HHC, 252nd CAB, 30th HBCT Tehachapi, CA 21-May-09
SPC BARTON Jacob D. 20 277th Eng Co., 46th Eng Bn, 225 Eng Bde Lenox, MO 11-May-09
SPC SYKES Shawn D. 28 E Co., (FSC), 215th BSB, 3rd BCT Portsmouth, VA 7-May-09
SPC McCLEERY Jeremiah P. 24 HHC, 1-12th Cavalry, 3rd BCT Portola, CA 2-May-09
SPC VELLOZA Jake R. 22 HHC, 1-12th Cavalry, 3rd BCT Inverness, CA 2-May-09
SGT WEBSTER Leroy O. 28 B Btry., 3-82nd FA, 2nd BCT Sioux Falls, SD 25-Apr-09
CPL DAVIS Brad A. 21 F Co, (FSC) 82nd BSB, 3rd BCT, 82nd ABN Garfield Heights, OH 22-Apr-09
SGT FORREST Edward W., Jr. 25 A Co., 1-67th Armor, 2nd BCT 4ID St. Louis, MO 10-Apr-09
PFC GAUTIER Bryce E. 22 HHC, 1-67th Armor, 2nd BCT 4ID Cypress, CA 10-Apr-09
SFC HALL Bryan E. 32 A Co., 1-67th Armor, 2nd BCT 4ID Elk Grove, CA 10-Apr-09
SGT LOZA Christopher D. 24 A Trp., 1-124th Cavalry, 56th Stryker BCT Abilene, TX 10-Apr-09
CPL PAUTSCH Jason G. 20 A Co., 1-67th Armor, 2nd BCT 4ID Davenport, IA 10-Apr-09
SSG WOODS Gary L., Jr. 24 A Co., 1-67th Armor, 2nd BCT 4ID Lebanon Junction, KY 10-Apr-09
SSG FUTRELL Raphael A. 26 13th MP Det, 728th MP Bn, 8th MP Bde Anderson, SC 25-Mar-09
CPL MOORE Gary L. 25 978th MP Co., 93rd MP Bn, 8th MP Bde Del City, OK 16-Mar-09
PFC SARANDREA Jessica Y. 22 HHC, 3rd BSTB, 3BCT, 1CD Miami, FL 3-Mar-09
SGT REED Jeffrey A. 23 411th MP Co., 720th MP Bn., 8th MP Bde Chesterfield, VA 2-Mar-09
CPL CONNELLY Brian M. 26 A Co., 40th Engineer, TF 1-6, 2BCT, 1AD Union Beach, NJ 26-Feb-09
1LT EMMERT William E. 36 269th MP Co., 117th MP Bn., 3rd BCT Lincoln, TN 24-Feb-09
SSG BAUM Mark C. 32 B Co., 1-111th Infantry, 56th Stryker BCT Telford, PA 21-Feb-09
SSG DIAMOND Sean D. 41 610th Eng Co., 14th Eng Bn, 555 Bde Dublin, CA 15-Feb-09
CPL THOMPSON Stephen S. 23 A Co., 1-22nd Infantry, 1st BCT, 4ID Tulsa, OK 14-Feb-09
LTC DERBY Garnet R. 44 HHC, 3-8th CAV, 3rd BCT Missoula, MT 9-Feb-09
PFC JEX Albert R. 23 HHC, 3-8th CAV, 3rd BCT Phoenix, AZ 9-Feb-09
PFC ROBERGE Jonathan R. 22 HHC, 3-8th CAV, 3rd BCT Leominister, MA 9-Feb-09
SGT WARD Joshua A. 30 HHC, 3-8th CAV, 3rd BCT Scottsville, KY 9-Feb-09
PVT BARNETT Charles Yi 19 E Co., 2-12th CAV, 4th BCT Bel Air, MD 20-Nov-08
SGT FERNANDEZ Reuben M., III 22 HHC, 2-7th Cavalry, 4th BCT Abilene, TX 11-Oct-08
PFC SETZLER Tavarus D. 23 E Co., 2-7th Cavalry, 4th BCT` Jacksonville, FL 2-Oct-08
SFC STANCIEL George 40 370th Eng Co., 54th Eng, 18 ENG Bde Greenwood, MS 19-Aug-08
PFC CROOKSTON Duncan C. 19 C Co., 2-16th Infantry, 4th BCT, 1ID Denver, CO 25-Jan-08
SGT PRATT Austin D 22 3-30th Infantry, 4th BCT, 10th MTN Cadet, MO 15-Dec-07
SPC NAYLOR Brynn J. 21 2-12th Infantry, 2nd BCT, 2ID Roswell, NM 13-Dec-07
PVT SMITH Daren A. 19 3-89th Cavalry, 4th BCT, 10th MTN Helena, MT 13-Dec-07
SPC PICKERING Randy W. 31 Regt Support Squadron, 2nd SCR Bovey, MN 9-Dec-07
SPC REECE Matthew K. 24 HHC, 1-504th Para Infantry, 1st BCT, 82ABN Harrison, AR 1-Dec-07
SGT PAREDEZ Alfred G., Jr. 32 HHC, 1-8th Cavalry, 2nd BCT Las Vegas, NV 20-Nov-07
SGT BANKS Derek R. 24 237th Eng. Co., 276th Eng., 35 ENG Bde (VAARNG) Newport News, VA 14-Nov-07
2LT BURKS Peter H. 26 P Trp., 4th Squadron, 2nd SCR Dallas, TX 14-Nov-07
SGT VANEK Joseph M. 22 C Co., 2-325th Infantry, 2nd BCT, 82 ABN Elmhurst, IL 12-Nov-07
CPT McGOVERN Timothy I. 28 E Co., 2-7th Cavalry, 4th BCT` Idaville, IN 31-Oct-07
SPC SMITHERMAN Brandon W. 21 E Co., 2-7th Cavalry, 4th BCT` Conroe, TX 31-Oct-07
SPC LAMBERT David E. 39 237th Eng. Co., 276th Engineer, 35 ENG Bde (VAARNG) Cedar Bluff, VA 26-Oct-07
CPL CHITIJAN Adam J. 39 E Co., 3-8th Cavalry, 3rd BCT Philadelphia, PA 25-Oct-07
SSG FONTENOT Jarred S. 35 A Co., 2-12th Infantry, 2nd BCT, 2ID Port Barre, LA 18-Oct-07
SPC GEIGER Wayne M. 23 B Trp., 3rd Squadron, 2nd SCR Lone Pine, CA 18-Oct-07
SPC MADERO Vincent A. 22 HHB, 2-82ndn Field Artillery, 3BCT Port Hueneme, CA 17-Oct-07
SPC IWASINSKI Kennth J. 22 D Co., 2-12th Infantry, 2nd BCT, 2ID Springfield, MA 14-Oct-07
SPC KOUTROUBAS Jason B. 21 A Co., 4th BSTB, 4th BCT, 1CD Dunnellon, FL 14-Oct-07
SSG MUNN Donald L. 25 HHC, DSTB, 1CD Saint Clairs Shores, MI 11-Oct-07
SPC CADY Frank L., III 20 B Co., 4th BSTB, 4th BCT, 1ID Sacramento, CA 10-Oct-07
SSG DUCKWORTH Eric T. 26 HHD, 759th MP, 89th MP BDE Plano, TX 10-Oct-07
CPL MEZA Gilberto A. 21 A Trp., 3rd Squadron, 2nd SCR Oxnard, CA 6-Oct-07
CPL MARCHAND Jason N. 26 C Trp., 3rd Squadron, 2nd SCR Greenwood, WV 5-Oct-07
SGT MILLEDGE Joseph B. 23 C Trp., 3rd Squadron, 2nd SCR Pointblank, TX 5-Oct-07
SPC MILO Avealalo 23 B Trp., 2nd Squadron, 2nd SCR Hayward, CA 4-Oct-07
GySgt MURKERSON Herman J., Jr. 35 MiTT 0142 (2nd BCT, 2ID, USMC **) Adger, AL 1-Oct-07
SGT OLGUIN Randell 24 C Trp., 1 Squadron, 2nd SCR Ralls, TX 30-Sep-07
SGT AYRES Robert T., III 23 A Trp., 3rd Squadron, 2nd SCR Los Angeles, CA 29-Sep-07
SSG DIXON Donnie D. 37 HHC, 3rd Brigade Combat Team, 1CD Miami, FL 29-Sep-07
SFC DOSTER James D. 37 B Co., 2-16th Infantry, 4th BCT, 1ID Pine Bluff, AR 29-Sep-07
SFC JOHNSON Randy L. 34 A-A Trp., 2nd SCR Washington, DC 27-Sep-07
SSG BROWN Kevin R. 38 A Trp., 6-9th Cavalry, 3rd BCT` Harrah, OK 25-Sep-07
SSG TOMCZAK Zachary B. 24 B Co., 2-325th Infantry, 2nd BCT, 82ABN Huron, SD 25-Sep-07
CSM LANKFORD Jonathan M. 42 79th Ordnance Battalion Scottsboro, AL 22-Sep-07
SPC REEVES Joshua H. 26 D Co., 2-16th Infantry, 4th BCT, 1ID Watkinsville, GA 22-Sep-07
SPC NEFF Christian M. 19 C Co., 1-64th Armor, 2nd BCT, 3ID Lima, OH 19-Sep-07
CPL EMERSON Matthew J. 20 D Co., 2-7th Cavalry, 4th BCT Grandview, WA 18-Sep-07
SPC WALKER Aaron J. 23 A Trp., 3rd Squadron, 2nd SCR Harker Heights, TX 18-Sep-07
SSG TOWNES Michael L. 29 E Co., 4-227th Aviation, 1ACB Las Vegas, NV 16-Sep-07
SPC THORSEN Brandon T. 22 A Co., 2-12th Cavalry, 4th BCT Trenton, FL 15-Sep-07
PFC McCLOUD Christopher M. 24 B Trp., 6-9th Cavalry, 3rd BCT Malakoff, TX 14-Sep-07
CPL MOTLEY Todd A. 23 B Trp., 6-9th Cavalry, 3rd BCT Clare, MI 14-Sep-07
CPL RIVADENEIRA Jonathan 22 B Trp., 6-9th Cavalry, 3rd BCT Jackson Heights, NY 14-Sep-07
SSG WAGONER Terry D. 28 B Trp., 6-9th Cavalry, 3rd BCT Piedmont, SC 14-Sep-07
SPC BROWN_WEEKS Ari D. 23 C Trp., 1-73rd Cavalry, 2nd BCT, 82ABN Abingdon, MD 10-Sep-07
SPC ELROD Steven R. 20 C Trp., 1-73rd Cavalry, 2nd BCT, 82ABN Hope Mills, NC 10-Sep-07
SSG GRAY Yance T. 26 C Trp., 1-73rd Cavalry, 2nd BCT, 82ABN Ismay, MT 10-Sep-07
SGT HARDEGREE Michael C. 21 C Trp., 1-73rd Cavalry, 2nd BCT, 82ABN Villa Rica, GA 10-Sep-07
SGT MORA Omar L. 28 C Trp., 1-73rd Cavalry, 2nd BCT, 82ABN Texas City, TX 10-Sep-07
SGT PATTERSON Nicholas J. 24 C Trp., 1-73rd Cavalry, 2nd BCT, 82ABN Rochester, IN 10-Sep-07
SSG RIVERA-SANTIAGO Gregory 26 C Trp., 1-73rd Cavalry, 2nd BCT, 82ABN St. Croix, Virgin Is. 10-Sep-07
SSG HOLLINSWORTH Courtney 26 A Trp., 1-4th Cavalry, 4th BCT, 1ID Yonkers, NY 9-Sep-07
SPC HEREDIA Marisol 19 G Co. (Fwd Spt), 15th BSB, 2nd BCT El Monte, CA 7-Sep-07
CPL HERNANDEZ Jason J. 21 A Trp., 1-9th Cavalry, 4th BCT Streetsboro, OH 7-Sep-07
CPL HILBERT Thomas L. 20 A Trp., 1-9th Cavalry, 4th BCT Venus, TX 7-Sep-07
SGT WILSON Lee C. 30 A Trp., 1-9th Cavalry, 4th BCT Chapel Hill, NC 6-Sep-07
SPC BALCON Dane R. 19 HHC, 3-8th Cavalry, 3rd BCT Colorado Springs, CO 5-Sep-07
SFC COOPER David A. 36 B Co., 2-23rd Infantry, 4th BCT, 2ID State College, PA 5-Sep-07
CPL NURNBERG Keith A. 26 D Co., 2-69th Armor, 3rd BCT, 3ID McHenry, IL 5-Sep-07
CPL PAREDES Javier G. 24 HHC, 2-69th Armor, 3rd BCT, 3ID San Antonio, TX 5-Sep-07
CPL WARFORD William T., III 24 F (FSC), 215th Bde Spt Bn, 3rd BCT Temple, TX 5-Sep-07
SPC JOHNSON Rodney J. 20 A Trp., 1-4th Cavalry, 4th BCT, 1ID Houston, TX 4-Sep-07
SPC LANE David J. 20 C Co., 2-16th Infantry, 4th BCT, 1ID Emporia, KS 4-Sep-07
SGT MURRAY Joel L. 26 C Co., 2-16th Infantry, 4th BCT, 1ID Kansas City, KS 4-Sep-07
PV2 SHELTON Randol S. 22 C Co., 2-16th Infantry, 4th BCT, 1ID Schiller Park, IL 4-Sep-07
SPC PATTON Christopher S. 21 A Co., 2-5th Cavalry, 1st BCT Lawrenceville, GA 1-Sep-07
SSG BUTKUS Jason M. 34 A Co., 1-28th Infantry, 4th BCT, 1ID Milford, NJ 30-Aug-07
SPC VIRGADAMO Travis M. 19 B Trp., 3-7th Cavalry, 2nd BCT, 3ID Las Vegas, NV 30-Aug-07
PV2 SANDERS Justin T. 22 A Co., 2-8th Cavalry, 1st BCT Watson, LA 29-Aug-07
PFC CARDENAS Edgar E. 34 HHC, 2-5th Cavalry, 1st BCT Lilburn, GA 22-Aug-07
PFC TORRES Omar E. 20 A Co., 2-5th Cavalry, 1st BCT Chicago, IL 22-Aug-07
1LT EDDS Jonathan W. 24 HHC, 2-69th Armor, 3rd BCT, 3ID White Pigeon, MI 17-Aug-07
SPC BLOCK Kamisha J. 20 720th MP Co., 92nd MP Bn., 89th MP BDE Vidor, TX 16-Aug-07
SSG NORRIS Paul B. 30 720th MP Co., 92nd MP Bn., 89th MP BDE Cullman, AL 16-Aug-07
SGT SAMUELS Princess C. 22 HHC, 1st Brigade Combat Team, 1CD Michellville, MD 15-Aug-07
SPC WALKER Zandra T. 28 A Co., 615th Avationn Support Bn., 1ACB Greenville, SC 15-Aug-07
CPL HENSEL Shawn D. 20 B Co., 2-23rd Infantry, 4th BCT, 2ID Logansport, IN 14-Aug-07
SSG COTTRELL Eric D. 39 A Btry., 5-82nd Field Artillery, 4th BCT Pittsview, AL 13-Aug-07
SPC HOWELLS Alun R. 20 E Co., 1-64th Armor, 2nd BCT, 3ID Parlin, CO 13-Aug-07
PFC LOPEZ Juan M., Jr. 23 A Btry., 5-82nd Field Artillery, 4th BCT San Antonio, TX 13-Aug-07
CPL PACIFICADOR Paulomarko U. 24 A Btry., 5-82nd Field Artillery, 4th BCT Shirley, NY 13-Aug-07
SSG BIRCHETT Alicia A. 29 887th Engineer Co., 20th ENG Bn., 1169th Eng Grp Mashpee, MA 9-Aug-07
SPC YOUNG Donald M. 19 B Co., 1-5th Cavalry, 2nd BCT Helena, MT 8-Aug-07
CPL ALCANTARA Juan M. 22 B Co., 1-23rd Infantry, 3rd BCT, 2ID New York, NY 6-Aug-07
SGT GUMMERSALL Nicholas A. 23 B Co., 1-23rd Infantry, 3rd BCT, 2ID Cubbuck, ID 6-Aug-07
CPL KHAN Kareem R. 20 B Co., 1-23rd Infantry, 3rd BCT, 2ID Manahawkin, NJ 6-Aug-07
SPC NEIBERGER Christopher T. 22 C Co., 1-18th Infantry, 2nd BCT, 1ID Gainesville, FL 6-Aug-07
SSG THOMPSON Jacob M. 26 B Co., 1-23rd Infantry, 3rd BCT, 2ID North Mankato, MN 6-Aug-07
SPC BLACKWELL Justin R. 27 57th MP Co., 92nd MP Bn., 89th MP BDE Paris, TN 5-Aug-07
PFC BOHANNON Jeremy S. 18 57th MP Co., 92nd MP Bn., 89th MP BDE Non Aqua, TN 5-Aug-07
SPC LEONARD Charles E., Jr. 29 A Co., 1-8th Cavalry, 2nd BCT Monroe, LA 5-Aug-07
SPC LONG Braden J. 19 A Trp., 1-4th Cavalry, 4th BCT, 1ID Sherman, TX 4-Aug-07
MSG INGLES-RIOS Julian 52 A Co., 130th Engineer, 1169th ENG GRP Anasco, PR 2-Aug-07
SPC ROJAS-GALLEGO Cristian 24 A Co., 2-3rd Infantry, 3rd BCT, 2ID Loganville, GA 2-Aug-07
SPC SALINAS Eric D. 25 A Co., 2-3rd Infantry, 3rd BCT, 2ID Houston, TX 2-Aug-07
SSG SANTOS Fernando 29 A Co., 2-3rd Infantry, 3rd BCT, 2ID San Antonio, TX 2-Aug-07
SPC GONZALEZ Zachariah J. 23 B Co., 2-3rd Infantry, 3rd BCT, 2ID Indianapolis, IN 31-Jul-07
PFC HEINLEIN Charles T., Jr. 23 B Co., 2-3rd Infantry, 3rd BCT, 2ID Hemlock, MI 31-Jul-07
PFC JAIRALA Alfred H. 29 B Co., 2-3rd Infantry, 3rd BCT, 2ID Hialeah, FL 31-Jul-07
SSG MADDIES Stephen R. 41 473rd CRAM Plt., TNARNG, DSTB, 1CD Elizabethtown, TN 31-Jul-07
SPC GRATER Cody C. 20 F Co. (FSC), 407th BSB, 2nd BCT, 82nd ABN Spring Hill, FL 29-Jul-07
SSG SULIVERAS Wilberto 38 C Co., 2-8th Cavalry, 1st BCT Humacao, PR 29-Jul-07
PV2 BALOGA Michael A. 21 A Trp., 6-9th Cavalry, 3rd BCT` Everett, WA 26-Jul-07
SPC LECKEL Daniel A. 19 C Co., 1-28th Infantry, 4th BCT, 1ID Medford, OR 25-Jul-07
SPC FLOREXIL Camy 20 HHC, 1-28th Infantry, 4th BCT, 1ID Philadelphia, PA 24-Jul-07
SGT COFFELT Ronald L. 36 118th MP Co., 759th MP Bn., 89th MP BDE Fair Oaks, CA 19-Jul-07
SPC CLOUSER Zachary R. 19 A Co., 1-26th Infantry, 2nd BCT, 1ID Dover, PA 18-Jul-07
SPC GILMORE Richard, III 22 A Co., 1-26th Infantry, 2nd BCT, 1ID Jasper, AL 18-Jul-07
SPC GOMEZ Daniel E. 21 A Co., 1-26th Infantry, 2nd BCT, 1ID Warner Robbins, GA 18-Jul-07
SFC GUITERREZ-ROSALES Luis E. 38 A Co., 1-26th Infantry, 2nd BCT, 1ID Bakersfield, CA 18-Jul-07
PFC BOBB Brandon K. 20 401st MP Co., 92nd MP Bn, 89th MP Bde Orlando, FL 17-Jul-07
PFC HARRELSON James J. 19 B Co., 2-16th Infantry, 4th BCT, 1ID Dadeville, AL 17-Jul-07
PFC JOSHUA Ron J., Jr. 19 401st MP Co., 92nd MP Bn, 89th MP Bde Austin, TX 17-Jul-07
SPC BARTLETT Benjamin B., Jr. 25 HHC, 4th Brigade Combat Team, 1CD Manchester, GA 15-Jul-07
PFC KUBE Christopher D. 18 G Co., (Fwd Spt), 2nd BSB, 2ID Sterling Heights, MI 14-Jul-07
1SG McKINNEY Jeffrey R. 40 A Co., 1-26th Infantry, 2nd BCT, 1ID Garland, TX 11-Jul-07
SPC DORE Jason E. 25 HHC, 2-5th Cavalry, 1st BCT Moscow, ME 8-Jul-07
SGT LAMIE Gene L. 25 A Trp., 3-7th Cavalry, 2nd BCT, 3ID Homersville, GA 6-Jul-07
SGT LILL Eric A. 28 A Btry., 2-17th FA, 2nd BCT, 2ID Chicago, IL 6-Jul-07
PFC WILSON Le Ron A. 18 B Co., 26th BSB, 2nd BCT, 3ID Queens, NY 6-Jul-07
MAJ AHEARN James M. 43 B Co., 96th Civil Affairs Bn., 95th CAB California 5-Jul-07
SGT KLINE Keith A. 24 B Co., 96th Civil Affairs Bn., 95th CAB Oak Harbor, OH 5-Jul-07
CPL RING Michelle R. 24 HHD, 92nd Military Police Bn., 89th MP BDE Martin, TN 5-Jul-07
CPL STACEY Jeremy L. 23 C Co., 2-12th Cavalry, 4th BCT Bismarck, AR 5-Jul-07
SPC DAVIS Steven A. 23 C Co., 2-12th Infantry, 2nd BCT, 2ID Woodbridge, VA 4-Jul-07
PFC ENGSTROM Andrew T. 22 HHB, 1-82nd FA, 1st BCT Slaton, TX 4-Jul-07
SPC GARCIA Victor A. 22 B Co., 1-38th Infantry, 4th BCT, 2ID Rialto, CA 1-Jul-07
PFC ROSSI Jonathan M. 20 B Co., 2-12th Cavalry, 4th BCT Safety Harbor, FL 1-Jul-07
SPC ADAIR James L. 26 B Co., 1-28th Infantry, 4th BCT,1ID Carthage, TX 29-Jun-07
SGT CROW William W., Jr. 28 A Co., 2-16th Infantry, 4th BCT, 1ID Grandview Plaza, KS 28-Jun-07
PFC HILTZ Cory F. 20 HHC, 2-12th Infantry, 2nd BCT, 2ID La Verne, CA 28-Jun-07
SGT JOYA MENDOZA Giann C. 27 B Co., 2-12th Infantry, 2nd BCT 2 ID North Hollywood, CA 28-Jun-07
SGT KIM Shin W. 23 HHC, 2-12th Infantry, 2nd BCT, 2ID Fullerton, CA 28-Jun-07
SGT MARTINEZ Michael J. 24 B Co., 2-12th Infantry, 2nd BCT 2 ID Chula Vista, CA 28-Jun-07
CPL WORKMAN Dustin L., II 19 B Co., 2-12th Infantry, 2nd BCT 2 ID Greenwood, NE 28-Jun-07
SSG NEWSOME Daniel A. 27 A Co., 1-8th Cavalry, 2nd BCT Chicopee, MA 27-Jun-07
SPC CRAIG Andre, Jr. 24 B Co., 2-16th Infantry, 4th BCT, 1ID New Haven, CT 25-Jun-07
SGT BROWN William E. 25 C Co., 2-227th Aviation, 1ACB Phil Campbell, AL 23-Jun-07
CPL CALHOUN Derek A. 23 D Co., 2-8th Cavalry, 1st BCT Oklahoma City, OK 23-Jun-07
SGT DAHL Joel A. 21 HHC, 2-23rd Infantry, 4th BCT, 2ID Los Lunas, NM 23-Jun-07
SGT DAVIS Chris 35 D Co., 2-69th Armor, 3rd BCT, 3ID Lubbock, TX 23-Jun-07
SGT HOUSE Joel A. 22 D Co., 2-8th Cavalry, 1st BCT Lee, ME 23-Jun-07
SPC KENNY Joseph P. 20 B Co., 27th BSB, 4th BCT Veneta, OR 23-Jun-07
SSG MALONE Jimy M. 23 D Co., 2-8th Cavalry, 1st BCT Willis Point, TX 23-Jun-07
SSG MOODY Michael D., Jr. 31 D Co., 2-69th Armor, 3rd BCT, 3ID Richmond, VA 23-Jun-07
1LT RIORDAN Daniel P. 24 D Co., 2-8th Cavalry, 1st BCT St. Louis, MO 23-Jun-07
PFC STINSON Shane M. 23 D Co., 2-69th Armor, 3rd BCT, 3ID Fullerton, CA 23-Jun-07
SGT MONTPETIT Michael J. 31 B Co., 15th BSB, 2nd BCT Honolulu, HI 22-Jun-07
SPC RODRIGUEZ Dominic N. 23 C Trp., 4-9th Cavalry, 2nd BCT Klamath Falls, OR 22-Jun-07
SPC AGAMI Daniel J. 25 C Co., 1-26th Infantry, 2nd BCT, 1ID Coconut Creek, FL 21-Jun-07
SPC CLIFTON Karen N. 22 630th MP Co., 759th MP Bn., 89th MP Bde. Lehigh Acres, FL 21-Jun-07
SPC HEBERT Anthony D. 19 C Co., 1-26th Infantry, 2nd BCT, 1ID Lake City, MN 21-Jun-07
SPC LEEMHUIS Thomas R. 23 C Co., 1-26th Infantry, 2nd BCT, 1ID Binger, OK 21-Jun-07
SGT MONTENEGRO Alphonso J. 22 C Co., 1-26th Infantry, 2nd BCT, 1ID Far Rockway, NY 21-Jun-07
SPC SPENCER Raymond N., Jr. 23 A Co., 2-12th Cavalry, 4th BCT Carmichael, CA 21-Jun-07
PFC VEITCH Jerimiah J. 21 A Co., 2-12th Infantry, 2nd BCT, 2ID Dibble, OK 21-Jun-07
SGT WOOD Ryan M. 22 C Co., 1-26th Infantry, 2nd BCT, 1ID Oklahoma City, OK 21-Jun-07
PFC BENTZ David J., III 20 B Co., 1-64th Armor, 2nd BCT, 3ID Newfield, NJ 20-Jun-07
MAJ BROOKSHIRE Sid W. 36 HHC, 1-64th Armor, 2nd BCT, 3ID Willard, MO 20-Jun-07
CPL CHARFAUROS Joe G., Jr. 33 B Co., 1-64th Armor, 2nd BCT, 3ID Rota, Mariana Islands 20-Jun-07
SSG HUBBELL Darren P. 38 B Co., 1-64th Armor, 2nd BCT, 3ID Tifton, GA 20-Jun-07
CPL LINDER Darryl 23 A Co., 1-12th Cavalry, 3rd BCT Hickory, NC 19-Jun-07
SGT SNELL Eric L. 35 B Trp., 3-61st Cavalry, 2nd BCT, 2ID Trenton, NJ 18-Jun-07
PFC TRACY Jacob T. 20 A Co., 1-8th Cavalry, 2nd BCT Palestine, IL 18-Jun-07
PFC WILKEY David A., Jr. 22 C Co., 1-28th Infantry, 4th BCT, 1ID Elkhart, IN 18-Jun-07
PFC PITTMAN Michael P. 34 B Trp., 1-4th Cavalry, 4th BCT, 1ID Davenport, IA 15-Jun-07
SSG BECHERT Michael A. 24 C Co., 1-18th Infantry, 2nd BCT, 1ID New Castle, IN 14-Jun-07
SPC HOLLOPETER Josiah W. 27 C Trp., 6-9th Cavalry, 3rd BCT` San Diego, CA 14-Jun-07
PFC JOHNSON William C. 22 B Trp., 1-4th Cavalry, 4th BCT, 1ID Oxford, NC 12-Jun-07
SPC PAYNE Cameron K. 22 D Co., 2-16th Infantry, 4th BCT, 1ID Corona, CA 11-Jun-07
CPL FENDER Llythaniele 21 B Btry., 5-5th ADA Medical Lake, WA 10-Jun-07
SSG LONG Brian M. 32 B Co., 2-3rd Infantry, 3rd BCT, 2ID Burns, WY 10-Jun-07
CPL NGIRAKED Meresebang 21 B Btry., 5-5th ADA Koror, Palau 10-Jun-07
PV2 MILLER Scott A. 20 HHC, 5-20th Infantry, 3rd BCT, 2ID Casper, WY 9-Jun-07
SPC GAJDOS Shawn D. 25 D Co., 2-16th Infantry, 4th BCT, 1ID Grand Rapids, MI 6-Jun-07
SFC SUTTON Greg L. 38 212th MiTT, 1st BCT, 1ID Spring Lake, NC 6-Jun-07
SGT HIGGINS Andrew J. 28 A Co., 5-20th Infantry, 3rd BCT, 2ID Hayward, CA 5-Jun-07
PFC VERDEJA Justin A. 20 A Co., 2-12th Infantry, 2nd BCT, 2ID La Puente, CA 5-Jun-07
SGT AKIN James C. 23 B Btry, 1-37th FA, 3rd BCT, 2ID Albuquerque, NM 3-Jun-07
SPC BROWN Joshua D. 26 A Co., 1-18th Infantry, 2nd BCT, 1ID Tampa, FL 3-Jun-07
SGT CHRISTOPHER Caleb P. 25 B Co., 1-8th Cavalry, 2nd BCT Chandler, AZ 3-Jun-07
SSG GAGARIN Greg P. 38 B Btry, 1-37th FA, 3rd BCT, 2ID Los Angeles, CA 3-Jun-07
SGT KRITZ Tyler J. 21 B Btry, 1-37th FA, 3rd BCT, 2ID Eagle River, WI 3-Jun-07
SGT SURBER Robert A. 24 B Btry, 1-37th FA, 3rd BCT, 2ID Inverness, FL 3-Jun-07
SGT WATT Kimel L. 21 C Btry., 1-7th FA, 2nd BCT, 1ID Brooklyn, NY 3-Jun-07
CPL CATALAN Romel 21 A Co., 1-23rd Infantry, 3rd BCT, 2ID Los Angeles, CA 2-Jun-07
CPL COSTELLO Jeremiah D. 22 G Co., (Fwd Spt), 27th BSB, 4th BCT Carlinville, IL 2-Jun-07
SGT DEHN Dariek E. 32 C Trp., 6-9th Cavalry, 3rd BCT Spangle, WA 2-Jun-07
SGT DRESSLER Shawn E. 22 A Co., 1-18th Infantry, 2nd BCT, 1ID Santa Maria, CA 2-Jun-07
CPL NEPSA Keith V. 21 G Co., (Fwd Spt), 27th BSB, 4th BCT New Philadelphia, OH 2-Jun-07
SSG CAMPOS Juan F. 27 C Co., 1-26th Infantry, 2nd BCT, 1ID McAllen, TX 1-Jun-07
SPC BAYLIS Matthew E. 20 C Co., 2-12th Infantry, 2nd BCT, 2ID Oakdale, NY 31-May-07
SGT DOMINO Chadrick O. 23 A Co., 1-23rd Infantry, 3rd BCT, 2ID Ennis, TX 31-May-07
SGT CUELLAR Bacillo E. 24 C Co., 1-18th Infantry, 2nd BCT, 1ID Odessa, TX 30-May-07
CPL LUNDIN James E. 20 C Co., 1-18th Infantry, 2nd BCT, 1ID Bellport, NY 30-May-07
SPC MOORE M 20 C Co., 1-18th Infantry, 2nd BCT, 1ID Russellville, KY 30-May-07
PFC LIGGETT Robert A. 23 E Co., 2-69th Armor, 3rd BCT, 3ID Urbana, IL 29-May-07
CPL MARKHAM Johnathan A. 22 A Trp., 6-9th Cavalry, 3rd BCT` Bedford, TX 29-May-07
SPC WHITE Dooneway 26 B Co., 2-5th Cavalry, 1st BCT Milpitas, CA 29-May-07
CPL ALEXEEV Alexandre A. 23 A Trp., 6-9th Cavalry, 3rd BCT` Wilmington, CA 28-May-07
CPL BAKER Zachary D. 24 A Trp., 6-9th Cavalry, 3rd BCT` Vilonia, AR 28-May-07
CPL CEDENO SANCHEZ Junior 20 B Co., 1-38th Infantry, 4th BCT, 2ID Miami, FL 28-May-07
SGT EWING Anthony D. 22 A Trp., 6-9th Cavalry, 3rd BCT` Phoenix, AZ 28-May-07
SSG McFALL Thomas M. 36 B Co., 1-38th Infantry, 4th BCT, 2ID Glendora, CA 28-May-07
CPL SUMMERS James E., III 21 A Trp., 6-9th Cavalry, 3rd BCT` Bourbon, MO 28-May-07
1LT WEST Kile G. 23 A Trp., 6-9th Cavalry, 3rd BCT` Pasadena, TX 28-May-07
SPC BLODGETT Clinton C. 19 A Co., 1-18th Infantry, 2nd BCT, 1ID Pekin, IN 26-May-07
PFC HESTER Charles B. 23 A Co., 2-3rd Infantry, 3rd BCT, 2ID Cataldo, ID 26-May-07
CPL TRUSSEL Francis M., Jr. 21 D Co., 1-12th Cavalry, 3rd BCT Lincoln, IL 26-May-07
SPC CAGUIOA Markryan C. 21 B Co., 1-5th Cavalry, 2nd BCT Stockton, CA 24-May-07
PFC DEMBOWSKI Robert H. 20 B Co., 1-504th Airborne Inf., 1st BCT, 82ABN Ivyland, PA 24-May-07
SFC DUNHAM Robert E. 36 1st BdeTransition Team, Attached to 4th BCT, 1ID Baltimore, MD 24-May-07
SSG SHOEMAKER Russell K. 31 1st BdeTransition Team, Attached to 4th BCT, 1ID Sweet Springs, MO 24-May-07
SGT URSO Iosiwo 27 B Trp., 1-14th Cavalry, 3rd BCT, 2ID Agana Heights, GU 24-May-07
PV2 SAUCEDA Oscar, Jr. 21 D Co., 1-28th Infantry, 4th BCT, 1ID Del Rio, TX 22-May-07
SPC BEHRLE David W. 20 A Co., 1-5th Cavalry, 2nd BCT Tipton, IA 19-May-07
SPC GILMORE Joseph A. 26 HHC, 1-5th Cavalry, 2nd BCT Webster, FL 19-May-07
PFC HASLIP Travis F. 20 A Co., 1-5th Cavalry, 2nd BCT Ooltewah, TN 19-May-07
SGT MEDLIN Jean P. 27 A Co., 1-5th Cavalry, 2nd BCT Pelham, AL 19-May-07
SSG MOORE Christopher 28 A Co., 1-5th Cavalry, 2nd BCT Alpaugh, CA 19-May-07
PFC VARELA Alexander R. 19 A Co., 1-5th Cavalry, 2nd BCT Fernley, NV 19-May-07
SFC BROWN Scott J. 33 HHC, 1-325th Airborne Inf, 2nd BCT, 82ABN Windsor, CO 18-May-07
SGT MARTINEZ Anselmo, III 26 B Co., 1-12th Cavalry, 3rd BCT Robstown, TX 18-May-07
CPL McCANTS Marquis J. 23 HHC, 1-325th Airborne Inf, 2nd BCT, 82ABN San Antonio, TX 18-May-07
SGT NASH Casey W. 22 HHC, 1-12th Cavalry, 3rd BCT Baltimore, MD 18-May-07
SPC ROMERO Joshua G. 19 B Co., 1-12th Cavalry, 3rd BCT Crowley, TX 18-May-07
SPC GAUTIER Aaron D. 19 D Co., 2-23rd Infantry, 4th BCT, 2ID Hampton, VA 17-May-07
CPL HAMM Jonathan V. 20 B Co., 2-23rd Infantry, 4th BCT, 2ID Baltimore, MD 17-May-07
SPC HARTGE Nicholas S. 20 C Co., 1-26th Infantry, 2nd BCT, 1ID Rome City, IN 14-May-07
SGT WRIGHT Thomas G. 38 46th MP Co., 759th MP Bn., 89th MP Bde. Holly, MI 14-May-07
1LT BACEVICH Andrew J. 27 D Co., 3-8th Cavalry, 3rd BCT Walpole, MA 13-May-07
SPC FRANK Michael K. 26 HHC, 1-504th Para Infantry, 1st BCT, 82ABN Great Falls, MT 10-May-07
PFC SAUSTO Anthony J. 22 A Co., 1-38th Infantry, 4th BCT, 2ID Lake Havasu City, AZ 10-May-07
SGT VAUGHN Jason W. 29 A Co., 5-20th Infantry, 3rd BCT, 2ID Iuka, MS 10-May-07
CPL NGUYEN Dan H. 24 A Co., 1-12th Cavalry, 3rd BCT Sugar Land, TX 8-May-07
CPL ALEXANDER Matthew L. 21 A Co., 5-20th Infantry, 3rd BCT, 2ID Gretna, NE 6-May-07
CPL BRADSHAW Anthony M. 21 A Co., 5-20th Infantry, 3rd BCT, 2ID San Antonio, TX 6-May-07
SPC DIXON Robert J. 27 A Trp., 1-4th Cavalry, 4th BCT, 1ID Minneapolis, MN 6-May-07
SGT HARKINS Jason R. 25 A Co., 5-20th Infantry, 3rd BCT, 2ID Clarksville, GA 6-May-07
SSG KIERNAN Christopher S. 37 D Co., 1-5th Cavalry, 2nd BCT Virginia Beach, VA 6-May-07
SGT LEWIS Joel W. 28 A Co., 5-20th Infantry, 3rd BCT, 2ID Sandia Park, NM 6-May-07
SSG MARTINEZ Virgil C. 33 D Btry, 1-7th FA, 2nd BCT, 1 ID West Valley, UT 6-May-07
CPL PURSEL Michael A. 19 A Co., 5-20th Infantry, 3rd BCT, 2ID Clinton, UT 6-May-07
SSG ROMEO Vincenzo 23 A Co., 5-20th Infantry, 3rd BCT, 2ID Lodi, NJ 6-May-07
PFC GUYTON Larry I. 22 B Co., 1-5th Cavalry, 2nd BCT Brenham, TX 5-May-07
SSG HAMLIN Christopher N. 24 B Co., 1-5th Cavalry, 2nd BCT London, KY 4-May-07
SPC FLORES John D. 21 HHC, 1-18th Infantry, 2nd BCT, 1 ID Barrigada, GU 3-May-07
SSG GONZALEZ-IRAHETA Felix G. 25 HHC, 1-18th Infantry, 2nd BCT, 1 ID Sun Valley, CA 3-May-07
SPC POTTER Jerome J. 24 A Co., 1-5th Cavalry, 2nd BCT Tacoma, WA 3-May-07
SGT WEISS Andrew R. 28 A Co., 1-5th Cavalry, 2nd BCT Lafayette, IN 3-May-07
1LT JONES Ryan P. 23 A Co., STB, 4th BCT, 1ID Westminster, MA 2-May-07
PFC SOENKSEN Katie M. 19 410th MP Co., 720th MP, 89th MP BDE Davenport, IA 2-May-07
SPC SUNSIN-PINEDA Astor A. 20 A Co., STB, 4th BCT, 1ID Long Beach, CA 2-May-07
SPC BOTELLO Brian A. 19 A Trp., 3-61st Cavalry, 2nd BCT, 2ID Alta, IA 29-Apr-07
SGT FUNCHEON Alexander J. 21 A Trp., 3-61st Cavalry, 2nd BCT, 2ID Bel Aire, KS 29-Apr-07
SSG MARTIN Jay E. 29 A Trp., 3-61st Cavalry, 2nd BCT, 2ID Baltimore, MD 29-Apr-07
SGT TOLLETT Norman L. 30 C Co., 1-504th Para Inf, 1st BCT, 82ABN Columbus, OH 28-Apr-07
SGT BUSHNELL William W. 24 HHC, 2-12th Cavalry, 4th BCT Jasper, AR 21-Apr-07​SSG HARPER Marlon B. 34 HHC, 1-8th Cavalry, 2nd BCT Baltimore, MD 21-Apr-07
PFC NORTH Christopher M. 21 A Trp., 1-4th Cavalry, 4th BCT, 1ID Sarasota, FL 21-Apr-07
PFC SLATER Michael J. 19 A Co., 407th BSB, 2nd BCT, 82ABN Scott Depot, WV 21-Apr-07
PFC MORALES Jason M. 20 D Co., 1-28th Infantry, 4th BCT, 1ID La Puente, CA 18-Apr-07
CPL OGLESBY Wade J. 27 C Btry., 1-37th FA, 3rd BCT, 2ID Grand Junction, CO 18-Apr-07
CPL ROJAS Michael M. 21 C Btry., 1-37th FA, 3rd BCT, 2ID Fresno, CA 18-Apr-07
PFC LANGENBRUNNER Richard P. 19 C Co., 2-69th Infantry, 3 BCT, 3ID (attach 2/2ID Fort Wayne, IN 17-Apr-07
SGT DeLEON Mario K. 26 A Co., 1-18th Infantry, 2nd BCT, 1ID San Francisco, CA 16-Apr-07
PFC GENEVIE Aaron M. 22 B Trp., 1-4th Cavalry, 4th BCT, 1ID Chambersburg, PA 16-Apr-07
PFC STARCEVICH Lucas V. 25 C Co., 1-18th Infantry, 2nd BCT, 1ID Canton, IL 16-Apr-07
PFC WALBERG Steven J. 18 HHT, 1-4th Cavalry, 4th BCT, 1ID Paradise, CA 15-Apr-07
CPL BEADLES Jason J. 22 887th Engineer Co., 20th ENG Bn., 1169th Eng Grp La Porte, IN 12-Apr-07
SPC BORBONUS John G. 19 B Trp., 1-40th Cavalry, 4th BCT, 25ID Boise, ID 12-Apr-07
CPL LINDSEY James T. 20 C Co., 3-509th (ABN), 4th BCT, 25 ID Florence, AL 12-Apr-07
1LT NEWMAN Gwilym J. 24 D Co., 2-8th Cavalry, 1st BCT Waldorf, MD 12-Apr-07
CPL PUTMAN Cody A. 22 B Trp., 1-40th Cavalry, 4th BCT, 25ID Lafayette, IN 12-Apr-07
SGT SEVAAETASI Raymond S. 29 F (FSC), 15th BSB, 2nd BCT Pago Pago, AS 11-Apr-07
SPC BOHRNSEN Kyle G. 22 C Co., 2-12th Infantry, 2nd BCT, 2ID Phillipsburg, MT 10-Apr-07
PFC HOLDEN Brian L. 20 A Btry., 2-17th FA, 2nd BCT, 2ID Claremont, NC 9-Apr-07
SPC SOLORIO Ismael G. 21 A Btry., 2-17th FA, 2nd BCT, 2ID San Luis, AZ 9-Apr-07
SPC SPOHN Clifford A., III 21 B Co., 3-509th Parachute IN, 4th BCT, 25ID Albuquerque, NM 9-Apr-07
PFC WALTON Brett A. 37 A Btry., 2-17th FA, 2nd BCT, 2ID Hillsboro, OR 9-Apr-07
SGT KENNEDY Adam P. 24 HHC, 4th BCT, 25ID Norfolk, MA 8-Apr-07
1LT NEEL Phillip I. 27 A Co., 3-8th CAV, 3rd BCT Maryland 8-Apr-07
SGT SINGLETON Todd A. 24 A Co., 2-5th Cavalry, 1st BCT Muskegon, MI 8-Apr-07
SSG WILLIAMS Jesse L. 25 B Co., 5-20th Infantry, 3rd BCT, 2ID Santa Rosa, CA 8-Apr-07
SPC CAJIMAT Jay S. 20 A Co., 2-16th Infantry, 4th BCT, 1ID Lahaina, HI 6-Apr-07
SPC DALLAM Ryan S. 24 HHC, 1-18th Infantry, 2nd BCT, 1 ID Norman, OK 6-Apr-07
SPC FUENTES Daniel A. 19 D Co., 1-28th Infantry, 4th BCT, 1ID Levittown, NY 6-Apr-07
PV2 LOPEZ RODRIGUEZ Damian 19 HHC, 1-18th Infantry, 2nd BCT, 1 ID Tucson, AZ 6-Apr-07
CPT PALERMO Anthony 26 HHC, 1-18th Infantry, 2nd BCT, 1 ID Brockton, MA 6-Apr-07
SGT SHAFFER Jason A. 28 HHC, 1-12th Cavalry, 3rd BCT Derry, PA 5-Apr-07
SSG BURGE Jerry C. 39 E Co., 2-8th Cavalry, 1st BCT Carriere, MS 4-Apr-07
CPL CANTRELL Joseph H., IV 23 HHC, 2-8th Cavalry, 1st BCT Ashland, KY 4-Apr-07
PFC COON James J. 22 B Co., 1-8th Cavalry, 2nd BCT Walnut Creek, CA 4-Apr-07
PFC FREEMAN Walter Jr. 20 HHC, 2-12th Infantry, 2nd BCT, 2ID Lancaster, CA 4-Apr-07
PFC GIBSON Derek A. 20 A Co., 2-12th Infantry, 2nd BCT, 2ID Eustis, FL 4-Apr-07
SSG BECKER Shane R. 35 A Trp., 1-40th Cavalry, 4th BCT, 25ID Helena, MT 3-Apr-07
PFC FIGUEROA Gabriel J. 20 HHC, 1-8th Cavalry, 2nd BCT Baldwin Park, CA 3-Apr-07
SGT BOWLING William G. 24 HHC, 2nd STB, 2nd BCT, 10 Mtn Beattyville, KY 1-Apr-07
SGT McDOWELL Robert M. 30 HHC, 2nd STB, 2nd BCT, 10 Mtn Deer Park, TX 1-Apr-07
SSG MEJIAS David A. 26 HHC, 2nd STB, 2nd BCT, 10 Mtn San Juan, PR 1-Apr-07
SSG VICK Eric R. 25 HHC, 2nd STB, 2nd BCT, 10 Mtn Spring Hope, NC 1-Apr-07
SSG ARNETTE Jason R. 24 C Co., 2-14th Infantry, 2nd BCT, 10 Mtn Amelia, VA 31-Mar-07
SPC FLORES Wilfred, Jr. 20 C Co., 2-14th Infantry, 2nd BCT, 10 Mtn Lawton, OK 31-Mar-07
1LT SHANK Neale M. 25 HHT, 1-89th Cavalry, 2nd BCT, 10 Mtn Fort Wayne, IN 31-Mar-07
SGT POLO Joe 24 A Co., 2-12th Infantry, 2nd BCT, 2ID Opalocka, FL 29-Mar-07
SPC McDONALD Sean K. 21 A Co., 9th Engineer Bn., 2nd BCT 1ID Rosemont, MN 25-Mar-07
SGT SPRINGER Lance C., II 23 HHT, 1-40th Cavalry, 4th BCT, 25ID Fort Worth, TX 23-Mar-07
SGT GARDNER Freeman L. 26 18th Engineer Co., 3rd BCT, 2ID Little Rock, AR 22-Mar-07
SSG GRIFFIN Darrell R., Jr. 36 C Co., 2-3rd Infantry, 3rd BCT, 2ID Alhambra, CA 21-Mar-07
SGT LIGHTNER Nicholas J. 29 HHC, 1-8th Cavalry, 2nd BCT Newport, OR 21-Mar-07
SGT CORNELL Wayne R. 26 HHC, 1-28th Infantry, 4th BCT, 1ID Holstein, NE 20-Mar-07
SGT GLAWSON Curtis E., Jr. 24 E Co., 610th BSB, 4th BCT, 1ID Daleville, AL 20-Mar-07
PFC RICHARDSON Stephen K. 22 HHC, 1-28th Infantry, 4th BCT, 1ID Bridgeport, CT 20-Mar-07
SGT GREEN Ryan P. 24 B Co., 1-8th Cavalry, 2nd BCT Woodlands, TX 18-Mar-07
SGT ALLEN John E. 25 A Co., 2-12th Cavalry, 4th BCT Palmdale, CA 17-Mar-07
PFC DAVIS William N. 26 A Co., 2-12th Cavalry, 4th BCT Adrian, MI 17-Mar-07
SPC GUERRERO Maieo 30 A Co., 1-18th Infantry, 2nd BCT, 1ID Fort Worth, TX 17-Mar-07
PFC LANDRY John F. 20 A Co., 2-12th Cavalry, 4th BCT Lowell, MA 17-Mar-07
SGT SANTINI Ed 25 A Co., 2-12th Cavalry, 4th BCT Toa Baja, PR 17-Mar-07
SFC BREVARD Christopher R. 31 A Co., 1-501st Parachute Infantry, 4th BCT, 25ID Phoenix, AZ 16-Mar-07
SPC ARNOLD James L. 21 B Co., 1-8th Cavalry, 2nd BCT Mattawan, MI 15-Mar-07
SGT BRAND Emerson N. 29 B Co., 1-8th Cavalry, 2nd BCT Rigby, ID 15-Mar-07
SSG HARRIS Blake M. 27 HHC, 1-8th Cavalry, 2nd BCT Hampton, GA 15-Mar-07
SSG PRATER Terry W. 25 B Co., 1-8th Cavalry, 2nd BCT Speedwell, TN 15-Mar-07
CPL CHEVALIER Brian L. 21 B Co., 5-20th Infantry, 3rd BCT, 2ID Athens, GA 14-Mar-07
SPC KOWALCZYK Stephen M. 32 C Trp., 6-9th Cavalry, 3rd BCT San Diego, CA 14-Mar-07
SPC ROSEMA Adam J. 27 E Co., 215th BSB, 3rd BCT Pasadena, CA 14-Mar-07
SGT CARR Robert M. 22 HHC, 2-12th Infantry, 2nd BCT, 2ID Warren, OH 13-Mar-07
PFC GARCIA Alberto, Jr. 23 C Co., 1-26th Infantry, 2nd BCT, 1ID Bakersfield, CA 13-Mar-07
SGT LATHAM Thomas L. 23 A Co., 2-14th Infantry, 2nd BCT, 10 Mtn Delmar, MD 11-Mar-07
SPC SMITH Jonathan K. 19 F (FSC)., 115th BSB, 1st BCT Atlanta, GA 11-Mar-07
PV2 GRAHAM Mark W. 22 HHC, 2-5th Cavalry, 1st BCT Lafayette, LA 7-Mar-07
SPC RANKINEN Shawn P. 28 D Co., 2-5th Cavalry, 1st BCT Independence, MO 7-Mar-07
SPC RIVERA Michael D. 22 HHC, 2-5th Cavalry, 1st BCT Brooklyn, NY 7-Mar-07
SSG WEBB Christopher R. 28 HHC, 2-5th Cavalry, 1st BCT Winchester, CA 7-Mar-07
SSG SOTO-PINEDO Karl O. 22 A Co., 1-18th Infantry, 2nd BCT, 1ID San Juan, PR 6-Mar-07
SGT HARRIS Blake A. 22 HHC, 1-12th Cavalry, 3rd BCT Pueblo, CO 5-Mar-07
PV2 MAYO Barry W. 21 B Btry., 2-82nd FA, 3rd BCT Ecru, MS 5-Mar-07
CPL RUSSELL Ryan D. 20 HHC, 1-12th Cavalry, 3rd BCT Elm City, NC 5-Mar-07
SGT MOYER Ashly L. 21 630th MP Co., 759th MP Bn., 89th MP Bde. Emmaus, PA 3-Mar-07
SGT PARR Brandon A. 25 630th MP Co., 759th MP Bn., 89th MP Bde. West Valley, UT 3-Mar-07
SGT PEEK Michael C. 23 630th MP Co., 759th MP Bn., 89th MP Bde. Chesapeake, VA 3-Mar-07
SSG LATOURNEY Paul M. 28 HHC, 2-5th Cavalry, 1st BCT, 1CD Roselle, IL 2-Mar-07
SPC RODRIGUEZ-CONTRERA Luis O. 22 HHC, 2-5th Cavalry, 1st BCT, 1CD Allentown, PA 2-Mar-07
SPC CADAVERO Jonathan D. 24 HHC, 2nd STB, 2nd BCT, 10 Mtn Takoma Park, MD 27-Feb-07
CPL HENRY Lorne E. 21 A Co., 2nd STB, 2nd BCT, 10 Mtn Niagra Falls, NY 27-Feb-07
SGT SOUKENKA Richard A. 30 A Co., 2nd STB, 2nd BCT, 10 Mtn Oceanside, CA 27-Feb-07
SGT BARNETT Jeremy D. 27 HHC, 3-8th Cavalry, 3rd BCT Mineral City, OH 24-Feb-07
SGT FORD Richard L. 40 D Co., 2-325th Inf, 2nd BCT 82 ABN Hartford, CT 20-Feb-07
SPC BOWE Matthew C. 19 B Trp., 1-89th Cavalry, 2nd BCT, 10 Mtn Coraopolis, PA 19-Feb-07
SPC CLEVELAND Adare W. 19 B Trp., 1-89th Cavalry, 2nd BCT, 10 Mtn Anchorage, AK 19-Feb-07
SSG COLON Pedro J. 25 B Co., 2-8th Cavalry, 1st BCT Cicero, IL 19-Feb-07
SGT DUNKIN Shawn M. 25 B Trp., 1-89th Cavalry, 2nd BCT, 10 Mtn Columbia, SC 19-Feb-07
CPL McARN Montrel S. 21 D Co., 2-8th Cavalry, 1st BCT Raeford, NC 19-Feb-07
SGT APUAN Matthew S. 27 D Co., 1-5th Cavalry, 2nd BCT Las Cruces, NM 18-Feb-07
SPC MARSH Chad E. 20 C Co., 1-26th Infantry, 2nd BCT, 1ID Wichita, KS 18-Feb-07
PFC PATON Justin T. 24 B Co., 2-8th Cavalry, 1st BCT Alanson, MI 17-Feb-07
SFC SPILLERS William C. 39 230th Finance Battalion Jackson, MS 17-Feb-07
PFC CUMMINGS Branden C. 20 A Co., 1-12th Cavalry, 3rd BCT Titusville, FL 14-Feb-07
SPC MADORE Ronnie G., Jr. 34 E (FSC), 215th BSB, 3rd BCT San Diego, CA 14-Feb-07
SFC MOSTEIRO Allen 42 B Trp., 1-7th Cavalry, 1st BCT Fort Worth, TX 14-Feb-07
SGT RODE John D. 24 E (FSC), 215th BSB, 3rd BCT Pineville, NC 14-Feb-07
SGT SEIGART Carl L. 32 E (FSC), 215th BSB, 3rd BCT San Luis Obispo, CA 14-Feb-07
SGT KURTZ Russell A. 22 B Co., 3-509th Parachute IN, 4th BCT, 25ID Bethel Park, PA 11-Feb-07
SGT THRASHER Robert B. 23 D Co., 2-12th Cavalry, 4th BCT Folsom, CA 11-Feb-07
CPL CAMACHO Leeroy A. 28 B Co., 1-12th Cavalry, 3rd BCT Saipan, Mariana Islands 9-Feb-07
SSG ROSS Eric 26 B Co., 1-12th Cavalry, 3rd BCT Kenduskeag, ME 9-Feb-07
SSG SHAW Alan W. 31 B Co., 1-12th Cavalry, 3rd BCT Little Rock, AR 9-Feb-07
PFC BROWNING Brian A. 20 B Co., 4-31st Infantry, 2nd BCT, 10MTN Astoria, OR 6-Feb-07
PV2 SPENCER Clarence T. 24 B Co., 1-12th Cavalry, 3rd BCT Fort Worth, TX 4-Feb-07
SSG SANDERS Ronnie L. 26 A Co., 407th BSB, 2nd BCT, 82ABN Thibodaux, LA 3-Feb-07
CW2 DeFRENN Jason G. 34 A Co., 1-227th AVN, 1ACB, 1CD Barnwell, SC 2-Feb-07
SSG DUNN Terrence D. 38 B Co., 210th BSB, 2nd BCT 10MTN Houston, TX 2-Feb-07
CPT LANDECK Kevin C. 25 B Btry., 2-15th FA, 2nd BCT, 10MTN Wheaton, IL 2-Feb-07
CW4 YOAKUM Keith 41 A Co., 1-227th AVN, 1ACB, 1CD Hemet, CA 2-Feb-07
PFC ARMSTRONG David C. 21 57th MP Co., 8th MP Bde, 8th Sus Cmd Zanesville, OH 1-Feb-07
PFC BUTLER Kenneth T. 21 58th MP Co., 8th MP Bde, 8th Sus Cmd East Liverpool, OH 1-Feb-07
SPC SIEGER Eric R. 18 B Co., 1-12th Cavalry, 3rd BCT Layton, UT 1-Feb-07
CW3 CHAO Cornell C. 36 B Co., 4-227th Aviation, 1st ACB Orange City, CA 28-Jan-07
CPT RESH Mark T. 28 HHC, 4-227th Aviation, 1st ACB Pittsburgh, PA 28-Jan-07
SGT GARRIGUS Mickel D. 24 543rd MP Co., 91st MP Bn., 10th MTN Elma, WA 27-Jan-07
PFC ST. JOHN Jon B., II 25 HHC, 2-8th Cavalry, 1st BCT Neenah, WI 27-Jan-07
CPL SWANSON Timothy A. 21 HHC, 2-8th Cavalry, 1st BCT San Antonio, TX 27-Jan-07
PFC TOOMALATAI David T. 19 HHC, 2-8th Cavalry, 1st BCT Long Beach, CA 27-Jan-07
SPC FAIRLIE Nathan P. 21 B Trp., 6-9th Cavalry, 3rd BCT Candor, NY 26-Jan-07
PFC BALSLEY Michael C. 23 B Trp., 3-61st Cavalry, 2nd BCT 2 ID Hayward, CA 25-Jan-07
SGT FULLER Alexander H. 21 B Trp., 3-61st Cavalry, 2nd BCT 2 ID Centerville, MA 25-Jan-07
SPC SHIPP Darrell W. 25 HHC, 2-5 Cavalry, 1st BCT San Antonio, TX 25-Jan-07
SSG LEIJA Hector 27 B Co., 1-23rd Infantry, 3rd BCT, 2ID Houston, TX 24-Jan-07
SSG WIGGINS Michael J. 26 79th Explosive Ordnance Disposal Battalion Cleveland, OH 23-Jan-07
CPL BROWN Nicholas P. 24 D Co., 2-7th CAV, 4th BCT Huber Heights, OH 22-Jan-07
SPC STOUT Brandon L. 23 46th MP Co., 759th MP Bn., 89th MP Bde. Grand Rapids, MI 22-Jan-07
SSG WILSON Jamie D. 34 A Co., 3-509th (ABN), 4th BCT, 25 ID San Diego, CA 22-Jan-07
SPC BISSON Jeffrey D. 22 A Co., 3-509th (ABN), 4th BCT, 25 ID Vista, CA 20-Jan-07
SPC CHISM Johnathan B. 22 A Btry., 2-377th Parachute FA, 4th BCT, 25 ID Gonzales, LA 20-Jan-07
PFC FALTER Shawn P. 25 A Btry., 2-377th Parachute FA, 4th BCT, 25 ID Cortland, NY 20-Jan-07
SGT FENNERTY Sean P. 25 A Co., 3-509th (ABN), 4th BCT, 25 ID Corvallis, OR 20-Jan-07
CPT FREEMAN Brian S. 31 B Co., 412th CAB Temecula, CA 20-Jan-07
1LT FRITZ Jacob N. 25 A Btry., 2-377th Parachute FA, 4th BCT, 25 ID Verdon, NE 20-Jan-07
PFC HILL Ryan J. 20 C Co., 1-26th Infantry, 2nd BCT, 1 ID Keizer, OR 20-Jan-07
PFC JAYNES Allen B. 21 HHT, 3-61st CAV, 2nd BCT, 2ID Henderson, TX 20-Jan-07
SGT McNEILL Phillip D. 22 A Co., 3-509th (ABN), 4th BCT, 25 ID Sunrise, FL 20-Jan-07
PVT MILLICAN Johnathan M. 20 A Btry., 2-377th Parachute FA, 4th BCT, 25 ID Trafford, AL 20-Jan-07
CPL OLSEN Toby R. 28 A Co., 3-509th (ABN), 4th BCT, 25 ID Manchester, NH 20-Jan-07
SFC BOREA Russell P. 38 A Co., 2-7th CAV, 4th BCT El Paso, TX 19-Jan-07
CPL RECHENMACHER William J. 24 HSC, Division STB Jacksonville, FL 18-Jan-07
SGT ANDERSON Ian C. 22 D Co., 2-7th CAV, 4th BCT Prairie Village, KS 15-Jan-07
SGT COOPER John E. 29 D Co., 2-7th CAV, 4th BCT Ewing, KY 15-Jan-07
CPL CORBETT Jason J. 23 D Co., 1-501st Parachute Inf, 4th BCT, 25 ID Casper, WY 15-Jan-07
2LT DAILY Mark J. 23 D Co., 2-7th CAV, 4th BCT Irvine, CA 15-Jan-07
CPL GRIMM Matthew T. 21 D Co., 2-7th CAV, 4th BCT Wisconsin Rapids, WI 15-Jan-07
SGT RIEKENA James D. 22 C Co., 130th ENG, 1169th ENG Grp. Redmond, WA 14-Jan-07
SGT SANCHEZ Paul T. 32 543rd MP Co., 91st MP Bn., 10th MTN Irving, TX 14-Jan-07
SPC BERG Ryan R. 19 B Co., 1-12th CAV, 3rd BCT Sabine Pass, TX 9-Jan-07
SPC CALDWELL Eric T. 22 E Co., 2-8th CAV, 1st BCT Salisbury, MD 7-Jan-07
SRA LONCKI Elizabeth A. 23 775th Civil Engineer Sqdn. USAF New Castle, DE 7-Jan-07
SRA MILLER Daniel B., Jr. 24 775th Civil Engineer Sqdn. USAF Galesburg, IL 7-Jan-07
CPL RADERSTORF Stephen J. 21 A Co., 3-8th CAV, 3rd BCT Peoria, AZ 7-Jan-07
TSGT WEINER Timothy R. 35 775th Civil Engineer Sqdn. USAF Tamarac, FL 7-Jan-07
CPL JOHNSON Jeremiah J. 23 D Co., 3-509th Parachute Inf, 4th BCT, 25 ID Vancouver, WA 6-Jan-07
SPC MITCHELL Raymond N., III 21 C Co. 2-14th Infantry, 2nd BCT, 10 MTN West Memphis, AR 6-Jan-07
SSG ALLEN Charles D. 28 Med Co., 296th BSB, 3rd BCT, 2 ID Wasilla, AK 4-Jan-07
SPC VANDLING Thomas E. 26 303rd PSYOPS Co., Pittsburgh, PA 1-Jan-07
PFC BLOHM Alan R. 21 HHC, 4th STB, 4th BCT, 25 ID Kenai, AK 31-Dec-06
CPL SCHILLER Jonathan E. 20 E Co., 215th BSB, 3rd BCT Ottumwa, IA 31-Dec-06
CPL SMITH Richard A. 20 E Co., 215th BSB, 3rd BCT Grand Prairie, TX 31-Dec-06
SGT SULLIVAN John M. 22 B Btry., 2-17th FA, 2nd BCT, 2 ID Hixon, TN 30-Dec-06
SGT CARTER Lawrence J. 25 HHC, 1-18th Infantry, 2nd BCT, 1 ID Rancho Cucamonga, CA 29-Dec-06
PFC NEWGARD William R. 20 HHC, 1-26th Infantry, 2nd BCT, 1 ID Arlington Heights, IL 29-Dec-06
SPC AYALA Luis G. 21 A Co., 2-8th Cavalry, 1st BCT South Gate, CA 28-Dec-06
SPC DONICA Dustin R. 22 A Co., 3-509th (ABN), 4th BCT, 25 ID Spring, TX 28-Dec-06
SPC GIVEN Nathaniel A. 21 D Co., 4-31st Infantry, 2nd BCT 10 MTN Dickinson, TX 27-Dec-06
PFC McCORMICK Clinton T. 20 A Co., 2nd BSB, 2nd BCT 2ID Jacksonville, FL 27-Dec-06
SGT MESSER Christopher P. 28 D Co., 4-31st Infantry, 2nd BCT 10 MTN Petersburg, MI 27-Dec-06
SSG BUBECK John T. 25 A Co., 9th Engineer, 2nd BCT 1ID Collegeville, PA 26-Dec-06
SPC STRONG Joseph A. 21 D Co., 3-509th Parachute Inf., 4th BCT, 25 ID Lebanon, IN 26-Dec-06
SPC TINSLEY Douglas L. 21 HHC, 3-509th Parachute Inf., 4th BCT, 25 ID Chester, SC 26-Dec-06
CPT CLAYTON Hayes 29 842nd MiTT, 4th BCT, 25ID Marietta, GA 25-Dec-06
SGT DENFRUND Jason C. 24 B Co. 2-14th Infantry, 2nd BCT 10 MTN Cattaraugus, NY 25-Dec-06
SSG MOON Jae S. 21 B Co., 2-12th Infantry, 2nd BCT 2 ID Levittown, PA 25-Dec-06
PFC NELSON Andrew H. 19 A Co., 9th Engineer, 2nd BCT 1ID Saint Johns, MI 25-Dec-06
SPC PRESTON Aaron L. 29 A Co., 9th Engineer, 2nd BCT 1ID Dallas, TX 25-Dec-06
SFC WHEELOUS Dexter E. 37 842nd MiTT, 4th BCT, 25ID Winder, GA 25-Dec-06
PFC WILKUS Eric R. 20 57th MP Co., 8th MP Bde, 8th Sus Cmd Hamilton, NJ 25-Dec-06
SPC ALGRIM Wilson A. 21 1st Battalion, 125th Infantry, MIARNG Howell, MI 23-Dec-06
CPL BARTA John 25 D Co., 1-12th Cavalry, 3rd BCT Corpus Christi, TX 23-Dec-06
SPC ELIAS Elias 27 HHT, 3-61st Cavalry, 2nd BCT 2ID Glendora, CA 23-Dec-06
SPC MEJIA Bobby, II 20 1st Battalion, 125th Infantry, MIARNG Saginaw, MI 23-Dec-06
SGT NORRIS Curtis L. 28 F Co., 210th BSB, 2nd BCT 2ID Dansville, MI 23-Dec-06
SGT VOLLMER Chad J. 24 1st Battalion, 125th Infantry, MIARNG Grand Rapids, MI 23-Dec-06
SPC SHEPPARD Joshua D. 22 642nd Eng Co., 7th Eng Bn., 10th MTN, 1169th ENG Grp. Quintin, OK 22-Dec-06
SGT DYKMAN Scott D. 27 A Co., 1-509th Parachute Inf, 4th BCT , 25 ID Helena, MT 20-Dec-06
SSG McMILLAN Jacob G. 25 HHC, STB, 4th BCT, 25 ID (A 1-502 PIR) Lafayette, IN 20-Dec-06
SPC VOLKER Robert J. 21 E Co., 1-5th Cavalry, 2nd BCT Big Springs, TX 20-Dec-06
SSG MINTZLAFF Brian L. 34 HHC, 2-8th Cavalry, 1st BCT Fort Worth, TX 18-Dec-06
PFC BAINES Joe L. 19 C Trp., 1-7th Cavalry, 1st BCT Newark, NJ 16-Dec-06
SSG STAATS David R. L. 30 C Trp., 1-7th Cavalry, 1st BCT Pueblo, CO 16-Dec-06
CPL STANLEY Matthew J. 22 C Trp., 1-7th Cavalry, 1st BCT Wolfeboro, NH 16-Dec-06
PFC STANTON Seth N. 19 C Trp., 1-7th Cavalry, 1st BCT Colorado Springs, CO 16-Dec-06
SSG KAHALEWAI Henry K. 43 A Trp., 1-14th Cavalry, 3rd BCT, 2 ID Hilo, HI 15-Dec-06
SGT DUNKLEBERGER Brent W. 29 D Co., 2-7th Cavalry, 4th BCT New Bloomfield, PA 12-Dec-06
SPC FORD Philip C. 21 C Co., 3-509th (ABN), 4th BCT 25 ID Freeport, TX 10-Dec-06
SGT GIBSON Brennan C. 26 C Co., 3-509th (ABN), 4th BCT 25 ID Tualatin, OR 10-Dec-06
SPC MURPHY Shawn M. 24 C Co., 3-509th (ABN), 4th BCT 25 ID Fort Bragg, NC 10-Dec-06
SPC STEINBACHER Nicholas P. 22 A Co., 2-5th Cavalry, 1st BCT La Crescenta, CA 10-Dec-06
SSG CIRASO Kristofer R. 26 A Co., 1-5th Cavalry, 2nd BCT Bangor, ME 7-Dec-06
CPL GIFFORD Micah S. 27 A Co., 3-509th (ABN), 4th BCT, 25 ID Redding, CA 7-Dec-06
SSG LINCK Henry W. 23 A Co., 3-509th (ABN), 4th BCT, 25 ID Manhattan, KS 7-Dec-06
SGT GAUTHREAUX Jay R. 26 HHC, 3rd Brigade Combat Team, 1CD Thibodaux, LA 4-Dec-06
SPC McGINNIS Ross A. 19 C Co., 1-26th Infantry, 2nd BCT, 1 ID Knox, PA 4-Dec-06
PFC COOPER Troy D. 21 HHB, 2-82 Field Artillery, 3rd BCT Amarillo, TX 3-Dec-06
CPT ENGLISH Shawn L. 35 1-9 Mil. Transition Tm, 2nd BCT, 2 ID (577 Eng Bn) Westerville, OH 3-Dec-06
CPL FARRIS Billy B. 20 5-20th Infantry, 3rd BCT, 2ID Bapchule, AZ 3-Dec-06
SPC HAINES Kenneth W. 25 HHB, 2-82 Field Artillery, 3rd BCT Fulton, NY 3-Dec-06
SSG HARTMAN John L., Jr. 39 1-9 Mil. Transition Tm, 2nd BCT, 2 ID (1-9 FA 3ID) Tampa, FL 30-Nov-06
SSG MULHAIR Jeremy W. 35 A Trp., 1-7th Cavalry, 1st BCT Omaha, NE 30-Nov-06
PFC WEST Theodore M. 23 B Co., 2-5th Cavalry, 1st BCT Richmond, KY 29-Nov-06
PVT BURROWS Joshua C. 20 E Co., 1-8th Cavalry, 2nd BCT Bossier City, LA 26-Nov-06
SSG DUNN Jeannette T. 44 A Co., BTB, 15th Sustainment Bde. Bronx, NY 26-Nov-06
CPT FRASER David M. 25 E. Co., 3-67 Armor, 4th BCT, 4 ID Houston, TX 26-Nov-06
CPT HAMILL Jason R. 31 E Co., 3-67 Armor, 4th BCT, 4 ID New Haven, CT 26-Nov-06
SSG MORRIS Daniel M. 28 A Co., 1-12th Cavalry, 3rd BCT Clinton, TN 25-Nov-06
SGT MUSACK James P. 23 A Trp., 7-10th Cavalry, 1st BCT, 4 ID Riverside, IA 21-Nov-06
SPC SHILLING Bradley N. 22 1st Battalion, 125th Infantry, MIARNG Stanwood, MI 18-Nov-06
SFC HAYNES Schuyler B. 40 HHC, 1-12th Cavalry, 3rd BCT New York, NY 15-Nov-06
SGT MUTZ Mitchel T. 23 HHC, 1-12th Cavalry, 3rd BCT Falls City, TX 15-Nov-06
1SG McGINNIS Ricky L. 42 A Troop, 6-9th Cavalry, 3rd BCT Hamilton, OH 26-Oct-06
SPC BREWER Adam N. 22 C Co., 2-7th Cav Dewey, OK 25-Feb-05
SGT OLIVIER Nicholas J. 23 C Co., 3-156th INF (LAARNG) Ruston, LA 23-Feb-05
1LT MALSON Adam W. 23 A Co., 4-31st INF (10 MTN) Rochester Hills, MI 19-Feb-05
SPC TRAHAN Seth R. 20 C Co., 3-156th INF (LAARNG) Crowley, LA 19-Feb-05
SGT PUSATERI Christopher M. 21 D Co., 2-325th INF (82nd ABN) Corning, NY 16-Feb-05
SSG ROBBINS William T. 31 HHC 39th BCT (ARARNG) North Little Rock, AR 10-Feb-05
SPC ALLMON Jeremy O. 22 C Co., 3-8th Cav Cleburne, TX 6-Feb-05
SPC HENDRICKSON Robert T. 24 C Co., 2-5th Cav Broken Bow, OK 1-Feb-05
SGT JAMES Lindsey T. 23 HHC 2-14th INF (10 MTN) Urbana, MO 29-Jan-05
CPT BONILLA Orlando A. 27 E Trp., 1-7th Cav Killeen, TX 28-Jan-05
SPC EVANS Michael S., II 22 B Co., 1088th ENG (LAARNG) Marrero, LA 28-Jan-05
CW2 JONES Charles S. 34 E Trp., 1-7th Cav Lawley, FL 28-Jan-05
SPC RAMSEY Christopher J. 20 B Co., 1088th ENG (LAARNG) Batchelor, LA 28-Jan-05
SSG REED Jonathan R. 25 B Co., 1088th ENG (LAARNG) Opelousa, LA 28-Jan-05
SSG RODRIGUEZ Joseph E. 25 B Co., 8th ENG Las Cruces, NM 28-Jan-05
SPC RYMER Lyle W., II 24 239th ENG Co., 39th BCT (ARARNG) Fort Smith, AR 28-Jan-05
SPC BURK Taylor J. 21 A Co., 1-8th Cav Amarillo, TX 26-Jan-05
SGT SWANK Brett D. 21 A Co., 1-509th INF (10 MTN) Northumberland, PA 24-Jan-05
CPT SULLIVAN Christopher J. 29 HHC 1-5th Cav Princeton, MA 18-Jan-05
PFC OBAJI Francis C. 21 A Co., 1-169th INF (NYARNG) Queens Village, NY 17-Jan-05
SPC KAMOLVATHIN Alain L. 21 A Co., 1-169th INF (NYARNG) Blairstown, NJ 16-Jan-05
SSG MANUEL William F. 34 C Co., 3-156th INF (LAARNG) Kinder, LA 10-Jan-05
SGT SWEENEY Robert W., III 22 HHC 3-156th INF (LAARNG) Pineville, LA 10-Jan-05
SPC McFARLANE Dwayne J., Jr. 20 HHB 2-15th FA (10 MTN) Cass Lake, MN 9-Jan-05
SGT BABIN Christopher J. 27 C Co., 2-156th INF (LAARNG) Houma, LA 6-Jan-05
SPC BERGERON Bradley J. 24 C Co., 2-156th INF (LAARNG) Houma, LA 6-Jan-05
SFC COMEAUX Kurt J. 34 C Co., 2-156th INF (LAARNG) Raceland, LA 6-Jan-05
SPC FASSBENDER Huey P. L. 24 C Co., 2-156th INF (LAARNG) LaPlace, LA 6-Jan-05
SPC FRICKEY Armand L. 20 C Co., 2-156th INF (LAARNG) Houma, LA 6-Jan-05
SPC MURPHY Warren A. 29 C Co., 2-156th INF (LAARNG) Marrero, LA 6-Jan-05
PFC VonRONN Kenneth G. 20 HHC 1-169th INF (NYARNG) Bloomingburg, NY 6-Jan-05
SPC BUIE Jimmy D. 44 B Co., 3-153rd INF (ARARNG) Floral, AR 4-Jan-05
SPC MARCUM Joshua S. 33 B Co., 3-153rd INF (ARARNG) Evening Shade, AR 4-Jan-05
SPC McHALFFEY Jeremy W. 28 B Co., 3-153rd INF (ARARNG) Mabelvale, AR 4-Jan-05
SPC LeBRUN Jeff 21 C Btry., 2-15th FA (10 MTN) Buffalo, NY 1-Jan-05
SGT FICEK Damien T. 26 C Co., 1-161st INF (WAARNG) Pullman, WA 30-Dec-04
SPC NELSON Craig L. 21 HHC 1-156th AR (LAARNG) Bossier City, LA 29-Dec-04
SSG NYREN Nathaniel J. 31 A Co., 1-8th Cav Reston, VA 28-Dec-04
SPC RIVERA-SERRANO Jose A. 26 B Co., 2-5th Cav Mayaquez, PR 27-Dec-04
1LT BARNETT Christopher W. 32 HHC 1-156th AR (LAARNG) Baton Rouge, LA 23-Dec-04
SPC HOYT Robert W. 21 C Co., 1-102nd INF (CTARNG) Ashford, CT 11-Dec-04
CPT STUBENHOFER Mark N. 30 HHC 1-141st INF (1 AD/10 MTN) Springfield, VA 7-Dec-04
SGT BOATRIGHT Michael L. 24 B Co., 20th ENG Whitesboro, TX 4-Dec-04
SSG IRIZARRY Henry E. 38 HHC 1-169th INF (NYARNG) Bronx, NY 3-Dec-04
SPC FISHER David M. 21 D Trp., 1-101st Cav (NYARNG) Green Island, NY 1-Dec-04
SGT CALDERON Pablo A. 26 C Co., 1-5th Cav Brooklyn, NY 30-Nov-04
SGT GUERECA Jose, Jr. 24 C Co., 1-5th Cav Missouri City, TX 30-Nov-04
SGT ENGELDRUM Christian P. 39 A Co., 1-169th INF (NYARNG) Bronx, NY 29-Nov-04
PFC URBINA Wilfredo F. 29 A Co., 1-169th INF (NYARNG) Baldwin, NY 29-Nov-04
SGT SMITH Michael A. 24 HHC 1-153rd INF (ARARNG) Camden, AR 26-Nov-04
SPC EBERT Brian M. 22 A Btry., 4-5th ADA Washtucna, WA 22-Nov-04
SPC ROUSTUM David L. 22 B Co., 1-108th INF (NYARNG) West Seneca, NY 20-Nov-04
SGT NOLAN Joseph M. 27 B Co., 312th MI Philadelphia, PA 18-Nov-04
PFC LARSEN Cole W. 19 272nd MP Co., 21st TSC, 39th BCT Canyon City, CA 13-Nov-04
SPC VELEZ Jose A. 23 A Co., 2-7th Cav Lubbock, TX 13-Nov-04
SGT SHIELDS Jonathan B. 25 C Co., 3-8th Cav Atlanta, GA 12-Nov-04
SPC WHITE Raymond L. 22 HHC 1-8th Cav Elwood, IN 12-Nov-04
SPC BABBITT Travis A. 24 HHC 1-8th Cav Uvalde, TX 9-Nov-04
SPC FREEMAN Bryan L. 31 A Co., 443rd CAB (USAR) Lumberton, NJ 8-Nov-04
SPC BAKER Brian K. 27 B Co., 2-14th INF (10 MTN) West Seneca, NY 7-Nov-04
PVT YOEMANS Justin R. 20 A Btry., 4-5th ADA Eufaula, AL 6-Nov-04
SFC BATTLES Michael, Sr. 38 B Btry., 1-21st FA San Antonio, TX 28-Oct-04
CW3 BRENNAN William I. 36 C Co., 1-25th AVN (25 ID) Bethlehem, CT 16-Oct-04
CPT JOHNSON Christopher B. 29 C Co., 1-25th AVN (25 ID) Excelsior Springs, MO 16-Oct-04
SPC VANDERTULIP Josiah H. 21 HHC 2-7th Cav Irving, TX 14-Oct-04
PV2 WATERS David L. 19 B Co., 2-14th INF (10 MTN) Auburn, Ca 14-Oct-04
SPC BAKER Ronald W. 34 C Co., 39th FSB (ARARNG) Cabot, AR 13-Oct-04
SPC MORENO Jaime 28 B Co., 20th ENG Round Lake Beach, IL 13-Oct-04
SPC REGNIER Jeremy F. 22 B Btry., 4-5th ADA Littleton, NH 13-Oct-04
CPT PINTOR Dennis L. 30 B Co., 20th ENG Lima, OH 12-Oct-04
SPC WEGER Michael S. 30 B Co., 20th ENG Rochester, NY 12-Oct-04
PFC MONROE Anthony W. 20 HHB DIVARTY Bismarck, ND 11-Oct-04
SGT OSBOURNE Pamela G. 38 HHB DIVARTY Hollywood, FL 11-Oct-04
PV2 RAMSEY Carson J. 22 C Co., 2-8th Cav Winkelman, AZ 10-Oct-04
SGT BROWN Andrew W. 22 A Co., 1-509th INF (10 MTN) Pleasant Mount, PA 8-Oct-04
SGT COLLIER Russell L. 48 HSB 1-206th FA (ARARNG) Harrison, AR 3-Oct-04
SGT POTTS Christopher S. 38 A Btry., 1-103rd FA (RIARNG) Tiverton, RI 3-Oct-04
SGT HENNESSEY Jack T. 21 C Co., 1-9th Cav Naperville, IL 1-Oct-04
SSG CUNNINGHAM Darren J. 40 HHC, 89th MP Bde Groton, MA 30-Sep-04
SPC JONES Rodney A. 21 A Co., 1-5th Cav Philadelphia, PA 30-Sep-04
SPC JOHNSON David W. 37 HHC 2-162nd INF (ORARNG) Portland, OR 25-Sep-04
SGT SORAM Skipper 23 B Btry., 3-82nd FA Koloma Ponpei 22-Sep-04
PFC PRICE James W. 22 B Btry., 4-5th ADA Cleveland, TN 18-Sep-04
SGT ROSENBAUM Thomas C. 25 B Btry., 4-5th ADA Hope, AR 18-Sep-04
SSG HAGY Guy S., Jr. 31 HHC 1-12th Cav Lodi, CA 13-Sep-04
SPC ISENBERG Benjamin W. 27 B Co., 2-162nd INF (ORARNG) Sheridan, OR 13-Sep-04
SGT THOMAS Carl 29 HHC 1-12th Cav Phoenix, AZ 13-Sep-04
SSG WEISENBURG David J. 26 B Co., 2-162nd INF (ORARNG) Portland, OR 13-Sep-04
SGT FAULKNER James D. 23 B Co., 20th ENG Clarksville, IN 8-Sep-04
SPC ANEIROS Yoe M. 20 C Co., 2-70th AR (1 AD/10 MTN) Newark, NJ 7-Sep-04
SPC DRAKE Chad H. 23 HSB 1-82nd FA Garland, TX 7-Sep-04
1LT PRICE Timothy E. 25 127th MP Co. (18th MP Bde) Midlothian, VA 7-Sep-04
SPC ADAMS Clarence, III 28 A Co., 91st ENG Richmond, VA 6-Sep-04
SSG BOURDON Elvis 36 C Co., 1-9th Cav Youngstown, OH 6-Sep-04
PFC McCAULEY Ryan M. 20 A Co., 2-5th Cav Lewisville, TX 5-Sep-04
SPC ROSS Marco D. 20 A Co., 115th FSB Memphis, TN 25-Aug-04
SSG THORNTON Robert C., Jr. 35 C Trp., 1-7th Cav Rainbow City, AZ 23-Aug-04
PFC CUMING Kevin A. 22 HHT 1-7th Cav North White Plains, NY 21-Aug-04
SPC MARTIR Jacob D. 21 A Co., 2-5th Cav Norwich, CT 18-Aug-04
PFC RISNER Henry C. 26 B Co., 2-14th INF (10 MTN) Golden, CO 18-Aug-04
SGT HEATH David M. 30 B Co., 1-41st INF (1 AD/10 MTN) LaPorte, IN 16-Aug-04
2LT GOINS James M. 23 HHC 2-12th Cav Bonner Springs, KS 15-Aug-04
PFC SAPP Brandon R. 21 A Co., 2-7th Cav Lake Worth, FL 15-Aug-04
SPC ZAPATA Mark A. 27 B Co., 2-12th Cav Edinburg, TX 15-Aug-04
PFC POTTER David L. 22 B Co., 115th FSB Johnson City, TN 7-Aug-04
SPC TITUS Brandon T. 20 B Co., 2-14th INF (10 MTN) Boise, ID 7-Aug-04
SPC BUNCH Joshua I. 23 B Co., 91st ENG Hattiesburg, MS 6-Aug-04
SGT GRAY Tommy L. 34 C Co., 215th FSB Roswell, AZ 3-Aug-04
PFC SHONDEE Harry N. 19 C Co., 2-12th Cav Ganado, AZ 3-Aug-04
SPC ONWORDI Justin B. 28 HHC 2-12th Cav Chandler, AZ 2-Aug-04
PFC LEISTEN Ken W. 20 B Co., 2-162nd INF (ORARNG) Cornelius, OR 28-Jul-04
SPC DAVIES Shawn M. 22 C Btry., 4-5th ADA Alquippa, PA 8-Jul-04
SPC SCHMUNK Jeremiah W. 21 C Co., 1-161st INF (WAARNG) Richland, WA 8-Jul-04
1SG UTT Ernest E. 38 B Btry., 1-82nd FA Hammond, IL 27-Jun-04
SPC HEINES Jeremy M. 25 C Co., 1-9th Cav New Orleans, LA 26-Jun-04
SSG PENNINGTON Gregory V. 36 C Co., 2-7th Cav Glade Spring, VA 21-Jun-04
SPC VUE Thai 22 127th MP Co. (18th MP Bde) Willows, CA 18-Jun-04
SPC McKINLEY Eric S. 24 B Co., 2-162nd INF (ORARNG) Corvalis, OR 13-Jun-04
PFC CAUGHMAN Thomas D. 20 A Co., 458th ENG Bn. (USAR) Lexington, SC 9-Jun-04
PFC HOBART Melissa J. 22 E Co., 215th FSB Ladson, SC 6-Jun-04
SPC DOLTZ Ryan E. 26 B Btry., 3-112th FA (NJARNG) Mine Hill, NJ 5-Jun-04
SGT TIMOTEO Humberto F. 25 B Btry., 3-112th FA (NJARNG) Newark, NJ 5-Jun-04
SGT CARVILL Frank T. 51 B Btry., 3-112th FA (NJARNG) Carlstadt, NJ 4-Jun-04
SPC DUFFY Christopher M. 26 B Btry., 3-112th FA (NJARNG) Brick, NJ 4-Jun-04
SGT EYERLY Justin L. 23 D Co., 2-162nd INF (ORARNG) Salem, OR 4-Jun-04
SPC LINDEN Justin W. 22 D Co., 2-162nd INF (ORARNG) Portland, OR 4-Jun-04
1LT McCRAE Erik S. 25 D Co., 2-162nd INF (ORARNG) Portland, OR 4-Jun-04
SPC ODUMS Charles E., II 22 HHC 1-8th Cav Sandusky, OH 30-May-04
SPC BEAULIEU Beau R. 20 B Co., 27th MSB Lisbon, ME 24-May-04
PFC JACKSON Leslie D. 18 A Co., 115th FSB Richmond, VA 20-May-04
SFC MIRANDA Troy L. 44 C Co., 1-153rd INF (ARARNG) DeQueen, AR 20-May-04
SSG LEDESMA Rene 34 A Trp., 1-7th Cav Abilene, TX 15-May-04
SPC SHAVER Jeffrey R. 26 A Co., 1-161st INF (WAARNG) Maple Valley, WA 12-May-04
SSG BOX Hesley, Jr. 24 B Co., 1-153rd INF (ARARNG) Nashville, AR 6-May-04
PFC KRITZER Bradley G. 18 A Btry., 1-21st FA Irvona, PA 5-May-04
SPC MARSHALL James E. 19 A Btry., 1-21st FA Tulsa, OK 5-May-04
SPC CARADINE Ervin, Jr. 33 B Co., 91st ENG Memphis, TN 2-May-04
PVT DREXLER Jeremy L. 23 B Co., 91st ENG Topeka, KS 2-May-04
SGT ESTEP Adam W. 23 A Co., 2-5th Cav Campbell, CA 29-Apr-04
SSG THOMAS Kendall 36 C Btry., 3-82nd FA St. Thomas, VI 28-Apr-04
SSG PENA-MEDINA Abraham D. 32 B Co., 20th ENG Los Angeles, CA 27-Apr-04
SPC MELTON Kenneth A. 30 B Co., 3-153rd INF (ARARNG) West Plains, MO 25-Apr-04
SSG BRANDON Stacey C. 35 HHC, 39th FSB (ARARNG) Hazen, AR 24-Apr-04
CPT FELDER Arthur L. 36 HHC, 39th FSB (ARARNG) Louisville, AR 24-Apr-04
CW3 KORDSMEIER Patrick W. 49 HHC, 39th FSB (ARARNG) North Little Rock, AR 24-Apr-04
SSG ORTON Billy J. 41 HHC, 39th FSB (ARARNG) Humnoke, AR 24-Apr-04
SSG CARMEN Edward W. 27 A Co., 2-12th Cav McKeesport, PA 17-Apr-04
SPC McGLOTHIN Michael A. 21 C Co., 115th FSB Milwaukee, WI 17-Apr-04
CW2 COLTON Lawrence S. 32 C Co., 1-227th AVN Oklahoma City, OK 11-Apr-04
CW3 FORTENBERRY Wesley C. 38 C Co., 1-227th AVN Woodville, TX 11-Apr-04
SPC CARBALLO Adolfo C. 20 A Btry., 1-21st FA Houston, TX 10-Apr-04
SPC JOHNSON Justin W. 22 HSB 1-82nd FA Rome, GA 10-Apr-04
SGT DELGRECO Felix M. 22 C Co., 1-102nd INF (CTARNG) Simsbury, CT 9-Apr-04
SFC LABADIE William W., Jr. 45 E Trp., 151st Cav (ARARNG) Bauxite, AR 7-Apr-04
SGT MORENO Gerardo 23 C Co., 1-5th Cav Terrell, TX 6-Apr-04
SPC ARSIAGA Robert R. 25 A Co., 2-5th Cav San Antonio, TX 4-Apr-04
SPC CASON Ahmed A. 24 A Co., 2-5th Cav McCalla, AL 4-Apr-04
SGT CHEN Yihiyh L. 31 C Co., 2-5th Cav Saipan Marianas 4-Apr-04
SPC GARZA Israel 25 A Co., 2-5th Cav Lubbock, TX 4-Apr-04
SPC HILLER Stephen D. 25 A Co., 2-5th Cav Opelika, AL 4-Apr-04
CPL JOSTES Forest J. 22 C Btry., 1-82nd FA Albion, IL 4-Apr-04
SPC SHEEHAN Casey 24 C Btry., 1-82nd FA Vacaville, CA 4-Apr-04
PFC STRANGE William R. 19 A Co., 91st ENG Adrian, GA 2-Apr-04
PFC SCHNEIDER Sean M. 22 A Co., 115th FSB Janesville, WI 29-Mar-04
PFC HUDSON Christopher E. 21 HHC 2-12th Cav Carmel, IN 21-Mar-04
SPC CHAPPELL Jason K. 22 B Co., 1-9th Cav Hemet, CA 24-Jan-04
SGT ROSENBERG Randy S. 23 B Co., 1-9th Cav Berlin, NH 24-Jan-04
SPC STURGES William R., Jr. 24 B Co., 1-9th Cav Spring Church, PA 24-Jan-04
SFC HICKS Gregory B. 35 B Co., 1-9th Cav Duff, TN 8-Jan-04

Ghosts of Fallujah
Ghosts of Fallujah (written by Coley D. Tyler) is a first person account of the Second Battalion, Seventh Cavalry's participation in the Second Battle of Fallujah, the largest single engagement of the Iraq War and the largest urban battle since Hue in 1968. A First Marine Division operation, it was spearheaded by one of the […]

Public Request for Division Assets (Band/Horse Cav Detachment/Honor Guard)
Need to request a Division asset: the Band, Horse CAV Detachment, or Honor Guard? Fill out the provided DD Form 2536 and email it to: SFC Kristin M. Chandler at usarmy.hood.1-cd.mbx.1cd-division-comrel@mail.mil.  If you have any questions about filling out the form call SFC Chandler at 254-288-2601. DD2536 Asset Request Form